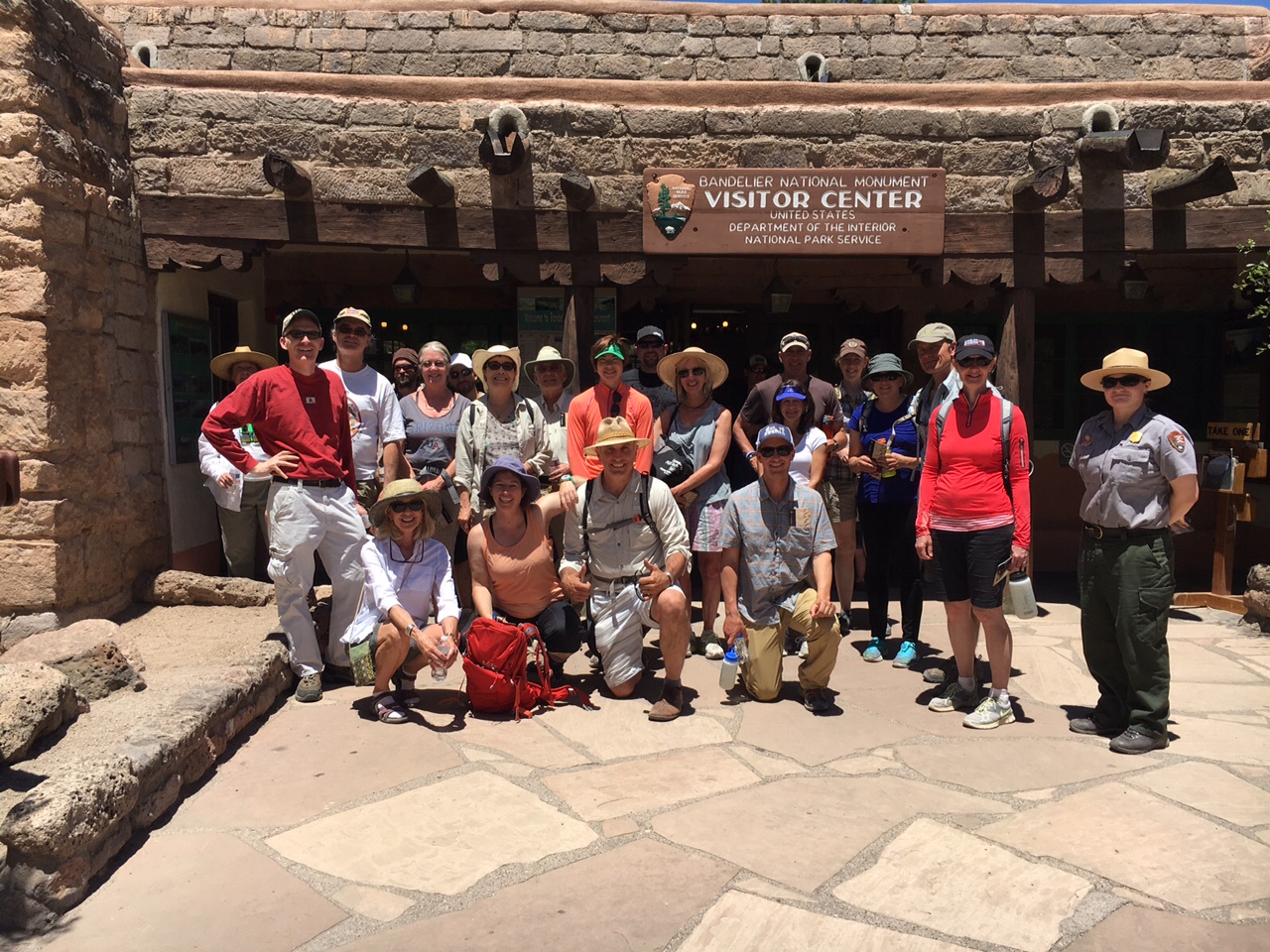 Quarterly News - 2016 Issue 3
letter from the president
Hello landscape architects, designers, students, allied professionals, and friends of the profession!
I want to start my third and penultimate Letter from the President with a quick recap of our annual ASLA Advocacy day, which took place on May 19th. NMASLA, along with representatives from other state chapters and landscape architecture students, swarmed Capitol Hill to advocate for policies important to our profession and to raise the profession's visibility among policy makers and their staff. We urged passage of the National Park Service Centennial Challenge legislation and promoted green infrastructure in transportation projects. Landscape architects play a crucial role in preventing and mitigating damage in transportation infrastructure projects through integrated vegetation management (IVM). IVM, or green infrastructure, is a great way to address many transportation project aspects at a lower cost when compared to traditional management. The benefits include preventing erosion, supporting structural stability, addressing storm water management, and significantly supporting our pollinators. Including plants as vital components of transportation projects proves to be less about aesthetics and more about the economic, environmental and therefore societal value for our communities.
To learn more about ASLA Advocacy, visit: https://www.asla.org/governmentAffairs.aspx
As a multiple winner of the National Advocacy Chapter Award, NMASLA will also participate in the Advocacy Summit to be held this August in Indianapolis.
NMASLA's call for nominations for the 2016-2017 Executive Committee has been extended until July 22nd! Please contact me if you're interested in having your name on the ballot, or if you would like to nominate another member. Being a part of the Executive Committee is a great way to network, become friends with other landscape architects locally and nationwide, and have fun while promoting the profession. I encourage all of you to get involved and be an active part of NMASLA, by serving at the ExCom level, or by chairing any of our Committees. And please join us regardless of whether it will be your first time volunteering for NMASLA or whether you have been involved with us before. Please contact me personally if you have any questions or are considering being a part of the ExCom. We would love to have you on board!
Stay tuned for a future announcements regarding PARKing Day, which is happening on September 16th , and another CiQlovia on October 15th.
Don't forget about the much anticipated NMASLA Design Awards Gala happening on November 12th! It will be an amazing night showcasing the best of the best in New Mexican landscape architecture.
And of course, if you want to discuss any matter regarding the landscape architecture profession in New Mexico, our chapter activities, or have any suggestions for NMASLA, please let me know.
congratulations to Council of Fellows Inductee and ASLA National President-Elect, Greg Miller!
Greg Miller, of Albuquerque's MRWM Landscape Architects, was elected to the highest volunteer position in ASLA this month. Greg will be sworn in as 2016-2017 president-elect at the ASLA Annual Meeting in New Orleans this fall and will serve as President starting in 2017. Read the announcement from ASLA here. He will also be inducted into the Council of Fellows in New Orleans. Greg received his nomination, in Service, from the New Mexico Chapter. At a time when similar professional organizations were suffering serious membership crises, he led a concerted effort to develop and enact an aggressive agenda that ensured the stability of ASLA. His strategy focused on programs that provide a wide range of valuable professional practice tools, help emerging professionals thrive, and maintain a diverse membership demographic. During his service as the New Mexico chapter trustee, on the Membership and Emerging Professionals Committees, and as vice president, he restructured the ASLA membership services programs, developed and instituted a decade-long program to bolster recruitment and retention, and dramatically enhanced the tangible benefits that membership affords practitioners, emerging professionals, and educators. In short, his way to strengthen landscape architecture and its professional society was to strengthen every ASLA member. Way to go, Greg!!!
santa fe botanical garden expands!
The Santa Fe Botanical Garden at Museum Hill will be opening their Ojos y Manos: Eyes and Hands garden on October 22nd this year. The garden will explore ethnobotany (the shared history of humans and plants) in Northern New Mexico. Unique to a public garden, Ojos y Manos will offer many hands-on and exploratory features. The new garden will serve as a learning space with tiered plots of annual crops that highlight plants used by American Indian and Spanish populations in northern New Mexico throughout history. The plots will include plants grown for weaving, dying, tool making and medicine.
In addition to the tiered gardens, Ojos y Manos will have three dedicated outdoor classrooms, two exploration places, and a learning pavilion with a seating capacity of 100. The second phase of the Botanical Garden truly presents an unprecedented opportunity to explore the importance of place with local New Mexicans, as well as visitors to our unique part of the world.
New Job Posting!
Westwind Landscape Construction, Inc. is seeking an entry-mid level Landscape Architect or Designer to join their design/construction team. View the posting here.
New member spotlight - meet Emily Hunt
In the winter of 2010, I found myself driving deep into west Texas looking for inspiration for the next chapter of my life. The past years I worked seasonal positions teaching outdoor education all over the nation. As a Midwestern woman I was fascinated by the varying climates, dynamic landscapes, and unique flora and fauna throughout the United States. It wasn't until I was in the middle of the desert, in a tiny book store, that I found out that I could merge all of my passions into one practice: landscape architecture.
That weekend trip to west Texas I spent my time wandering around Marfa learning how land art is just one way the built landscape is formed by designers and artists. It took me a year after that trip to get back to the southwest where I immediately start earning a master's in landscape architecture at the University of New Mexico. I chose UNM for its emphasis on design and the opportunity to study land art. I was hell bent on being the next Nancy Holt and constantly was exploring the outdoors hiking and biking to remind myself the power of humans in the natural landscape.
When it came to finding an internship after my first year in graduate school I looked for positions that kept me in the outdoors as much as possible. For three summers I worked for the National Park Service in Arizona and Utah hunting down prehistoric ruins in order to update the National Register. Far away from trail and away from public access I was immersed in the archeology of prehistoric and historic eras. That position gave me the opportunity to form a new lens that changed how I see and understand the built non-contemporary environment. After graduation I moved to Durango, Colorado where I continued to enjoy the outdoors and commuted to a National Park in Arizona to work as a historian. As much as I loved my job with NPS, the six-hour commute for the seasonal position that lacked work with landscape architecture helped me make an easy choice to move back to Albuquerque to pursue a position the LA field.
This past fall I began working as a landscape designer with Heads Up Landscape Contractors. Although my office is now indoors I have learned invaluable skills on how to design a landscape with budget and maintenance in mind. I am thrilled to be working with landscape architecture again and surrounded by fellow designers. Currently I share my passion for landscape architecture as an associate-at-large on the Executive Committee for NMASLA and as a volunteer with Women in Design of New Mexico. As a new designer I am excited to see where our field of work will evolve specifically with designing to adapt to climate change, how we will respond to the existing historic landscapes around us, and how urbanization and technology morphs public spaces.
Congratulations to the 2016 NMASLA student Honor and Merit Award Recipients!
Wendi Fox: Honor Award
Beverly Fisher: Merit Award
Christopher Schlouski: Merit Award
These 2016 UNM MLA Program graduates showed exemplary design and leadership skills in their presentations to a jury of NMASLA member landscape architects on Monday, June 27. NMASLA wishes them great success in their future careers!
Q2 Event Recap - Bandelier National Monument
The morning session consisted of a walking tour led by Jaime Civitello, the park archaeologist / cultural resource manager for Bandelier National Monument. The tour began by discussing the native peoples that inhabited the region, and how the frijoles canyon evolved chronologically into the national monument we see today including the damage done by the Las Conchas fire of 2011.
Of particular note in the monument are the "pueblo revival style" buildings still being restored and used today. These buildings were originally owned and operated as part of a lodge used by visitors to the area. Building materials were difficult to transport into the site and so most were acquired locally.
The afternoon session involved a partially guided walking tour through the remnants of structures built by native peoples as well as a self guided portion where visitors were allowed the opportunity to self-explore cave excavations and petroglyphs on display. In all NMASLA had about 25 members in attendance and the event was a big success. Everyone enjoyed the day out visiting some of New Mexico's finest cultural resources and left with a greater appreciation and understanding of the native people who inhabited the land.
Trustee's Report / Mid-Year Meeting Wrap Up
Advocacy Day
On May 19th, the New Mexico delegation of Greg Miller, Jitka Dekojova, Will Moses, and myself visited the office of Sen. Tom Udall, Sen. Martin Heinrich, Rep. Michelle Lujan Grisham, and Rep. Ben Ray Lujan. Although our legislators were busy with all sorts of political stuff, we carried our message to their very engaged staff members. As with many of our past legislative visits, this year was again about us preaching to the choir. Our legislators are very much on board with the issues that are important to us, and in fact, are already championing many of our causes. Although space doesn't allow for me to get into too much detail about these issues, the key legislative items discussed were:
National Park Service (NPS) Centennial Challenge - calls for Congress to pass legislation that authorizes and fully funds the NPS Centennial Challenge, to preserve America's iconic recreational spaces.
Resilient Streets, which focuses on creating a transportation network for the 21st Century. Key to this is to promote integrated vegetation management (IVM), which reduces erosion, mitigates the effects of flooding, protects drinking water, and creates pollinator habitat. We asked Congress to oppose any legislation or amendments to limit IVM in transportation projects.
If you'd like to learn more about these initiatives, you can check out the ASLA website.
Vice President Elections
After presentations from candidates for various Vice Presidential appointments, the BOT elected Tom Mroz, ASLA as VP of Finance; Vanessa Warren, ASLA as VP of Membership; and Wendy Miller, FASLA as VP of Professional Practice. This is old news, but presentations were also made by the candidates for President-Elect, Gary Brown, FASLA and our very own Greg Miller, ASLA (soon to be FASLA). As you've already heard, Greg won and we're proud to have him represent the Society and the great State of New Mexico.
Dues Increase/Graduated Dues
In 1999, the Board of Trustees established a policy calling for the evaluation of dues every two years, with the Finance and Investments and the Member Services Committees being responsible for evaluating the dues structure and making recommendations to the Board of Trustees. While the Society has successfully weathered the economic constraints of the past seven years, program costs continue to rise, averaging five percent in 2014 and 2015. The discussions focused mainly on the uncertainty in future inflation and the need to keep programs areas financially supported. Additionally, potential increases in programming associated with the Center for Landscape Architecture and the plan to redefine the ASLA brand needed to be considered. With these points in mind, the BOT voted to approve a five percent increase in dues (amounts to 15 dollars), effective January 1, 2017, for Full, International, and Affiliate Members with no dues increase in 2018.
In addition, students and emerging professionals were again a major topic of discussion for the BOT as there is a continuing downward trend on membership for those two categories.
Current data shows a significant loss of members as their membership dues sharply increase throughout their associate membership. This loss is particularly sharp for those that take advantage of the free year of membership. A graduated dues system would respond to the financial constraints of emerging professionals and continue the opportunity to engage with them as members. The system would:
recognize that the period in which an individual is an emerging professional often lasts longer than three years;
establish value of membership even in the first year (versus the concept that something given away has no value); and
improve retention among emerging professionals as the dues payments would increase with their capacity to pay the dues.
The BOT voted to approve a five year graduated dues system that eliminates the free first year, and incrementally increases your dues for five years until Full Member status and dues are reached. Given the additional revenue from Year 1 associates and increased retention rates due to the graduated dues requirements, this program is expected to be revenue neutral.
Students and Emerging Professionals
Over the past two years, ASLA has focused more closely on the needs and interests of emerging professionals, including the challenge of retaining emerging professionals as members. During the recent discussions regarding emerging professionals, the Board explored options for improving engagement. Last year, ASLA aggressively promoted volunteer service to emerging professionals, prompting a spike in student and associate participation in ASLA committees. To further enhance this influence on ASLA programs and policy, two additional committees were approved by the BOT, the Student Advisory Committee and the Associate Advisory Committee. In addition to providing advice regarding ASLA program development, both committees will elect a chair that will serve as the Student Representative and Associate Representative to the ASLA Board of Trustees. This will replace the existing process for electing a Student Representative and adds the new position of Associate Representative, both of which would be nonvoting positions. I hope the young leaders in our Chapter will take advantage of this opportunity to get involved. A bit more information on both committees can be found at this link.
Is anyone still awake after reading all of that?!? Please feel free to ask if you'd like additional information on these topics or any other ASLA issues.
Upcoming events
21st Annual Golf Tournament and Vendor Expo - Friday, August 12th at Arroyo del Oso Golf Course. Click here for more info and to register.